GLUTEN FREE DISCLAIMER
Amicas is pleased to offer a variety of gluten free options on both our food and beverage menu. We are not a gluten-free restaurant and cannot ensure that cross contamination will never occur. We have processes in place to minimize that happening but there is a great deal of gluten in the air and on our work surfaces. Our Panini sandwiches must be prepared on the same grill as our other sandwiches and we do brush the grill but there is a good risk of cross contamination. Also both our chicken and pork are prepared in a beer marinade. If you are a Celiac and/or highly sensitive please advise the person taking your order and know that we will do our best but cannot guarantee your order will not touch gluten somewhere in the process.
Nightly pasta menu starts at 5pm. Call or check menu board when you come in!
SALAD SPECIAL
Romaine, Feta Cheese, Grilled Chicken, Shaved Red Onion, Avocado, Pine Nuts & Caesar Dressing


$12.70
MEXICAN PIZZA SPECIAL
Organic Ketchup, Blend of Tillamook Cheddar & Mozzarella, Grass-Fed Ground Beef & Bacon Topped with Shredded Lettuce, Diced Tomatoes & Amicas Special Sauce
$12.70
BBQ CHICKEN SANDWICH SPECIAL
Roasted Chicken, House-made BBQ Sauce, Bacon, Shaved Red Onion & Provolone – Grilled and Served with a Side Salad

$12.70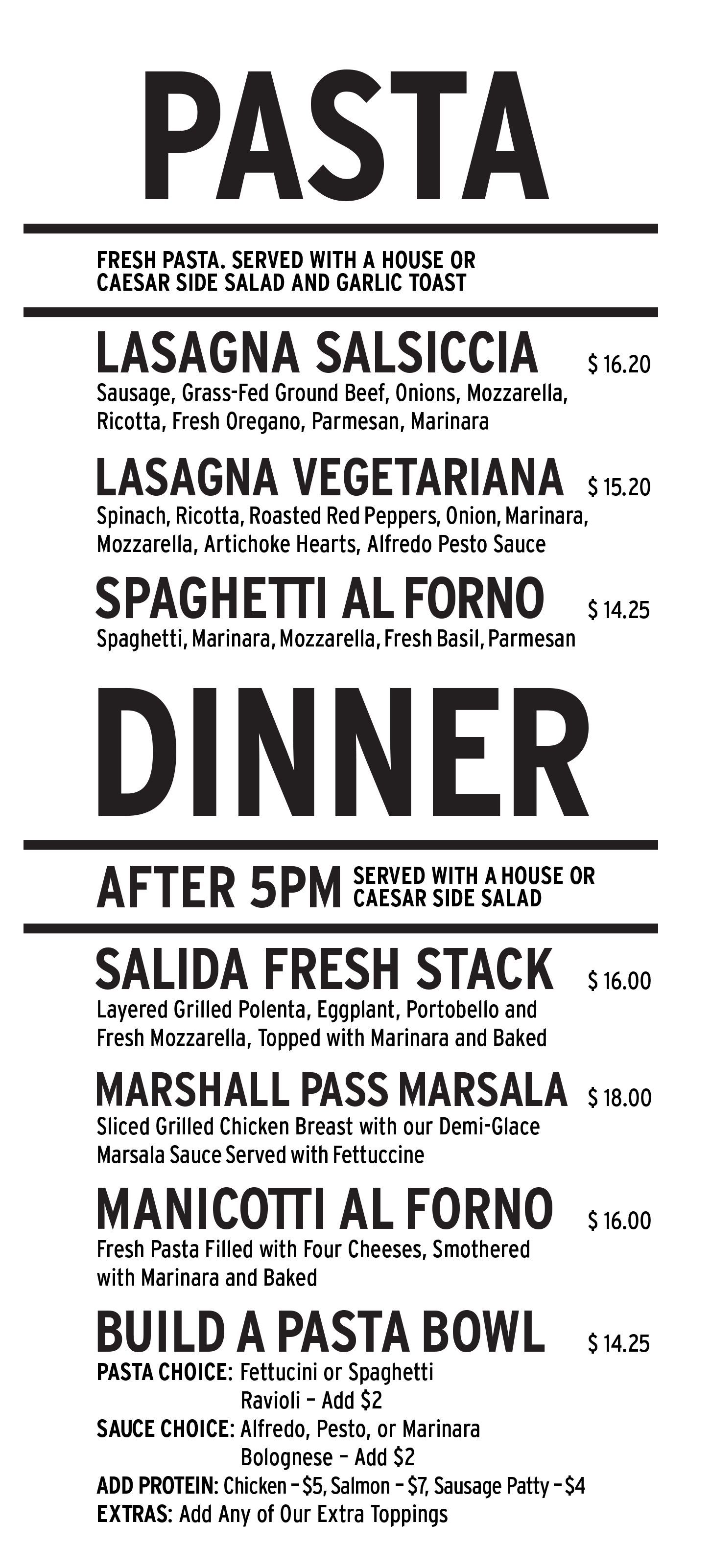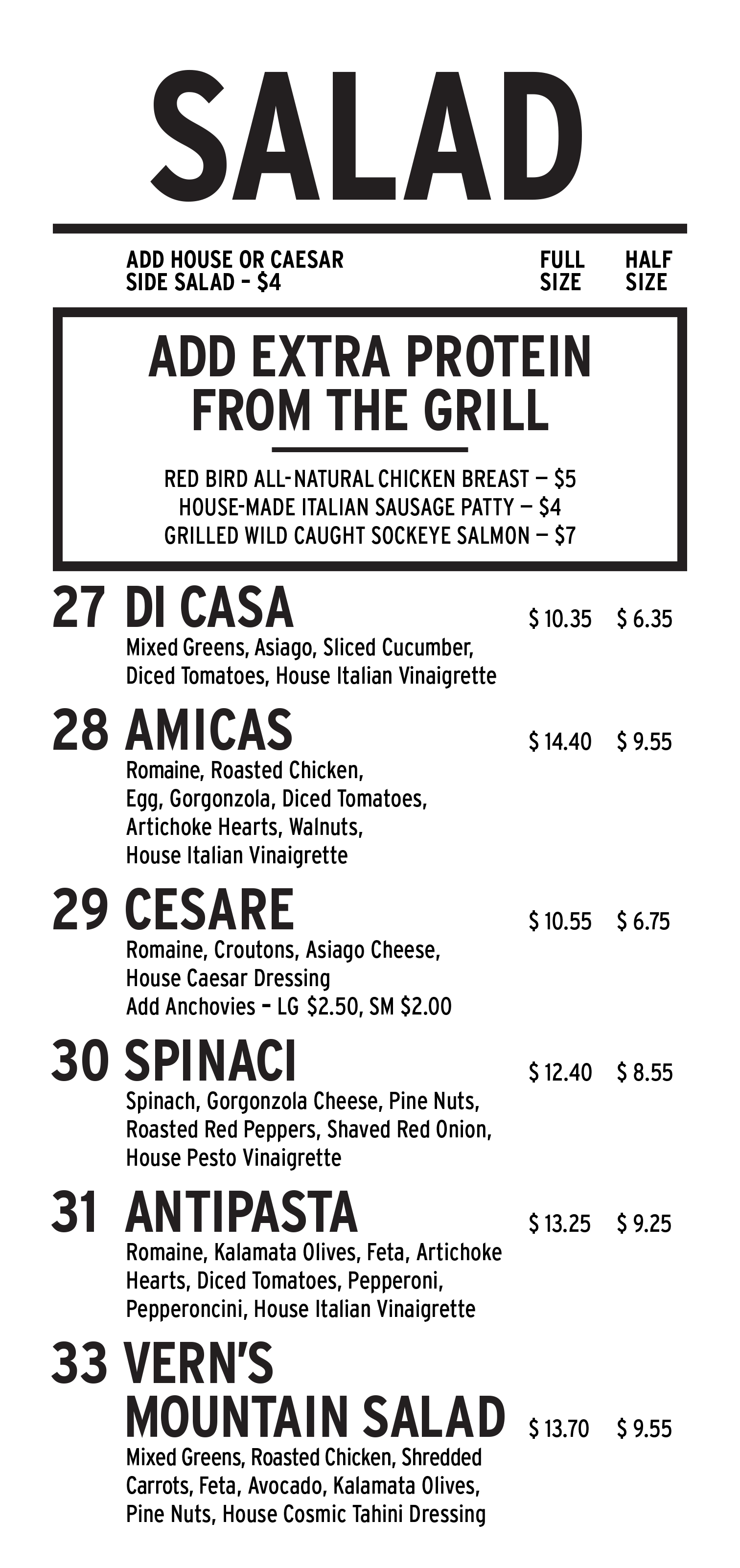 Good Morning/
A Variety of Goodness
HOW DO YOU WANT IT?
Frittata- topped with choice of cheese and microgreens and served with whole wheat toast: $9.50
Two Breakfast Tacos (GLUTEN FREE corn tortillas) 
served with rosemary potatoes: $9.50
Big S Breakfast Burrito (flour tortilla)
includes tomatoes, potatoes 
& 
smothered with green chili: $9.50
7" Breakfast Pie GLUTEN FREE option available: $9.50
Choose your Filling
Eggs, Spinach, Onion, Mushroom, Goat Cheese
Eggs, Italian Sausage, Blistered Shishito Peppers, Artichoke Heart, Mozzarella
Eggs, Roasted Poblanos, Bacon, Provolone
Choose your Salsa
Tomatillo, Poblano, Avocado Salsa,
 Pico de Gallo or Mary's hot salsa.
Sour Cream, add $.50
Light Breakfast
Egg Salad on Wheat Toast with Sliced Avocados and Microgreens: $5
Side of Rosemary & Garlic Roasted Potatoes
: $5
Organic Rolled Oats with Diced Apples, 
Cinnamon, Cardamom, Topped with 
Sweetened Toasted Walnuts and Choice of Milk: 
$5
Breakfast in a Muffin
Blueberries, apples, walnuts – organic and gluten free: 
$4.75
HubBub Brewing
Our original Amicas recipes now being brewed by HubBub Brewing
Headwaters IPA
ABV: 7%
Our top selling ale, Headwaters has a clear emphasis on balance. There is plenty of hop bitterness, aroma and flavor here, but also a great malt profile that backs up and supports the wonderful citrus notes from the use of Cascade and Centennial hops. 
Medium bodied with a lingering hop palate..
Rex's Amber
ABV: 5.2%
Rex's Amber is a malt forward American style Amber Ale. We brew Rex's Amber for balance and easy drinking. Willamette hops balance out the malt profile, but remain background and subtle. Finish is clean.
Green Chile Ale
ABV: 5.2%
All that we love about fresh roasted chilies. A deep, roasted aroma greets you and a wonderful chile flavor follows. Serrano chiles are added to create a bright flavor and heat.
---
Bomber Blonde
ABV: 5.2%
An American Blonde Ale with a German accent. Bomber Blonde is straw colored & light bodied with a dry crisp finish. Hallertau hops add balance and complexity.
Big S Brown Ale
ABV: 6%
Big S is an American Style Brown Ale, with big malt complexity. Caramel and chocolate malts provide the rich backbone to this year round favorite. Hopping is moderate and provides balance for an even finish.
---
Available ONLY at the Hub Bub Brewery
MUNCHBOX – OPENING SOON … STAY TUNED!
Available ONLY at HubBub Brewing in Salida, Colorado!